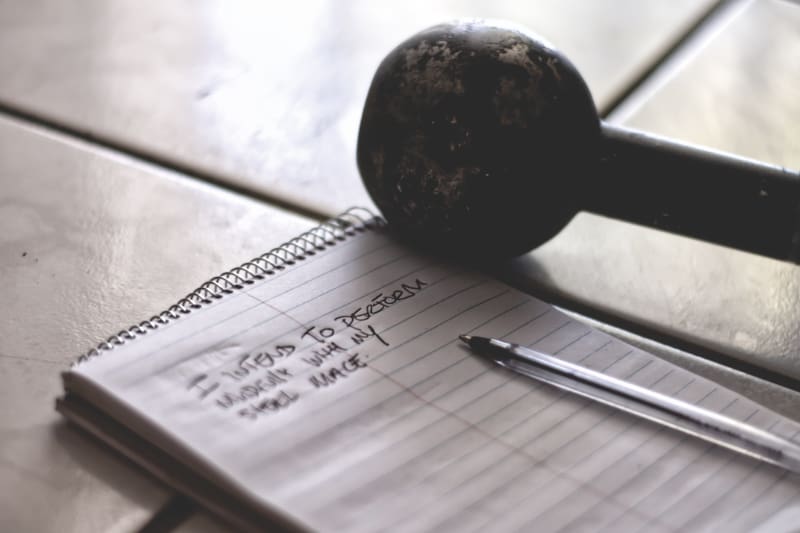 Credit: Photo by Steel Mace Warrior / Victoria Islas.
 Why You Should Start Setting Steel Mace Training Intentions and How to do it
Before I get started I wanted to let you in on a personal attribute of mine – I am spiritual as fuck. But it took me a long time to get here. For the longest time, I cringed at any aspect of religion or spirituality. There was a time where I even claimed to be an atheist. Oh, man! I have spiritually developed as an individual over the years. I tell you this in case you are in a similar spot that I was in because I know hearing about "setting intentions" can be hard for some and easier for others. I also want to note that I am not talking about setting fitness/steel mace training goals in this article, that is something else entirely. I will explain further on this in a bit! But please note that you do not need to be spiritual to do this practice or to integrate this to your daily Steel Mace Routine. I just wanted to let you know where I am coming from and why I think setting intentions will change the way you train entirely.
Let's talk about Goals VS. Intentions
First off, you should be setting goals and intentions together! They become more powerful that way. But I want to talk about the differences between them and how they are not the same.
Why is setting Steel Mace Training goals important? Well, they will help you get shit done, they will push you and give you much better long-lasting results. They are simply great and they work! And I will write a separate article on this later next week. But the one downfall about them is that they are always set at a future time and for some, this might start to raise feelings of stress. They are always reaching for something external. You might start thinking things like: What If I can't reach my goals? What If I Fail? What If, What If, What If. And then your deadline comes around to lose 10LB with your Steel Mace in hand but you only lost 5LB.
But this doesn't necessarily mean that goals are not important or that they are bad. They do help you achieve A LOT. Goals and Intentions just work differently and I am going to share a secret with you! Intentions will help balance out your goals. That is why I am discussing this with you today. I want you to get the most out of your Steel Mace Training, period.
Why is setting Steel Mace Training Intentions important? When your goals start to feel a little too far away, or empty – intentions bring you into the NOW. They will spark your training up if you've been feeling a little unsparked. Intentions are FOCUS in the present moment and work as a daily reminder of what you truly desire for yourself. They are an internal thing rather than an external destination.
How To Set Intentions for Your Steel Mace Training
First, do not give up on your goals. Goals are still important to set and remember. We still need those. What we want to do is combine goals with daily intentions to bring forth a fantastic orchestra of health and fitness improvements.
The first thing you must do is check out the goals you already have – if you don't have any goals now is the time to make some specific and realistic ones. You will need to read them over to create some daily intentions around them.
Second, set a daily intention to help you reach the big goal(s). Write your intentions in the first person, present tense. Start your sentences with "I" or "I Am".
So how exactly does that look like? Let me give you a direct example.
GOAL: I'd like to be able to swing 100 REPS of 360s with my 10LB Steel Mace by the end of January 2020.
ACTION:
10 Reps, Left and Right on Week 1, 2-3 sessions per week.
20 Reps, Left and Right on Week 2, 2-3 sessions per week.
30 Reps, Left and Right on Week 3, 2-3 sessions per week.
40 Reps, Left and Right on Week 4, 2-3 sessions per week.
A FEW INTENTIONS THAT WOULD WORK FOR THIS THROUGHOUT THE MONTH:
I intend to move fiercely with complete focus and control with mace in hand.
I intend to smile and enjoy my steel mace practice.
I intend to perform mindfully.
I will love my body and give it the proper recovery session it needs.
You can also use these as "Mantras" before starting your Steel Mace Training. All you have to do is touch your steel mace and say one of your intentions for the day. This might look similar to how mace training sessions are started in India but without all the religious aspects. I also suggest repeating one intention for the day at least 2-6 times and the best time to repeat out loud is when you truly need it.
You can also power up your intentions by meditating 5-10 minutes a day. This will help you get out of your way and out of your head – then you can use that energy you were wasting on your intention for TODAY, not tomorrow, nor the past.
Anyways, Intentions are great because they help us stay focused on what we are doing with our Steel Mace Training today. Little microdoses of mindful movement that will ultimately help us get closer to our Steel Mace goals. Using both will power up your training! And I highly recommend this to you. Stay open, always be a student and conquer the day.
May the universe always flow with you,