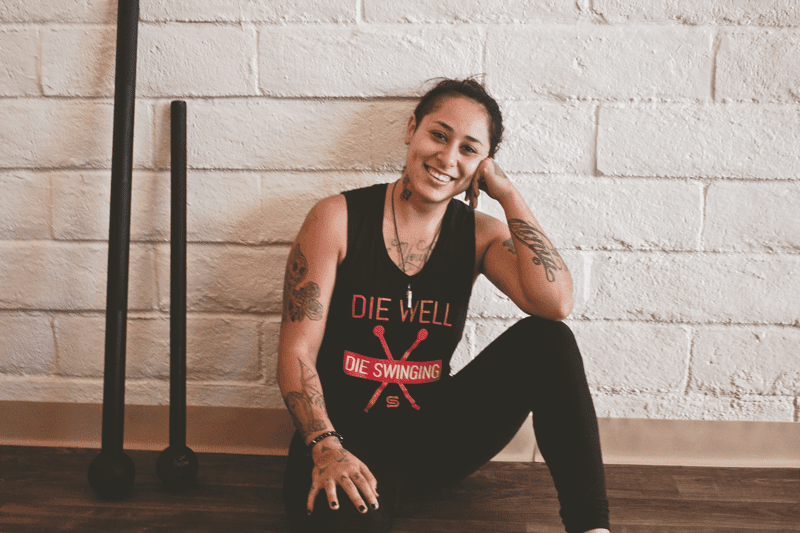 Waking the warrior within
Coach Victoria Islas – Certified Steel Mace Coach, Personal Trainer and Nutrition Consultant
Honestly, my journey started with music. I was lead singer and writer for a band in my teenage years that won first place on LATV's Battle of the Bands. I got a little bit of fame but was very short lived. Over the years I had developed body shame which led me to abuse diet pills, drink energy drinks excessively, not eating, overeating and self-induced vomiting.
Right after music I got into online marketing (graphic design and website design) which led me to a desktop job where I gained a lot of weight. Looking back, my heaviest weight was 155 LBS at 5'2. Let me tell you, I didn't feel comfortable under my skin. AND THEN somewhere between music and marketing my father had his first heart attack and I lost a great friend to suicide. This took me down a spiral of panic attacks, depression and hidden self-mutilation.
Part of the reason I am sharing this is because I want to show you that everyone has a story and although yours is different than mine I know that moving your body and doing it well will truly change your life the way it did for me and countless others. You can overcome anything. Its nature, you are meant to move and grow. It's not going to be easy, actually it's going to be a journey and it might even feel uncomfortable. But see, that's the best part and it's going to help you grow strong roots into the ground. I don't know who you are yet but I believe in you and I believe the universe brought you to this page. Fitness is a journey and I want to guide you to take it by the horns IF that is what you are seeking and prepared to do.
I didn't get into fitness to make dollars, it found me and told me to help others. Be ready, stay ready and let's get you moving.
May the universe always flow with you,

Certified Steel Mace Coach & Personal Trainer
Credentials
KIPS Steel Mace Certified
NewBreed MaceBell Certified
Mr.Maceman Certified
MaceFit Certified
Start training with me today