Today is Father's Day
Posted on 6/17/2018

CPT / Certified Steel Mace Coach
Today is a really awesome day and yet a really sad one for me. Today is Father's Day.
One of the things I wanted to do on my own website was to share a journal and I am going to keep up with that idea. I felt the need to dedicate a piece of the warrior in me to my papa. I know he would be super proud of all this, whatever it is i am doing, not sure if anyone else feels this way but i am going along with the flow (and taking action).
If you are a listener of my podcast you will notice just how much I love being part of such an amazing mace movement. I have been talking to some of the best mace athletes and coaches out there in the world. But what a lot of you don't know is that I lost my father last year around my birthday (July 2017) which was devastating and I couldn't even get the courage to talk about it on the second podcast where I talked a little bit about myself and why I started  Steel Mace Warrior in the first place. I just wasn't ready to discuss any of it with you or even myself. I had just moved back and forth from Arizona and California and I was really trying to find myself again. I was a mess and i was also really good at hiding it. But i think i hid behind a mask long enough.
My father was an amazing man and we had such amazing times. I remember the first time we played guitar together in his semi-truck, well at least I tried and threw the guitar because I couldn't play it at first. I remember playing "horsey" with him, I'd jump on his back and pretend he was a horse. Thinking back I am sure I made him do this for hours (spoiled brat). I remember playing "marble soldiers" with him, we would set up an entire army and knock them down with marbles. I remember going on trips with him to different places on his semi-truck and would ask him to honk the horn several times a day. You get the point. We were close and he was my hero. We had an awesome father and daughter relationship. I believe I had the best dad in the world and still do. In case you wanted to know, he passed from heart complications. Cardiovascular disease is a bitch and it's something that takes many lives each day.
Sadly, my father wasn't ever into fitness or eating healthy until after his first heart attack which is always a little too late. Growing up I can't even remember him working out in any way or form. The strange thing is that he was always pretty thin and I am assuming it was due to his job type – loading and unloading hay and then hauling hay on his semi-truck.  He even went paralyzed for a few months, went to mexico to get a shot and somehow with all his will walked again! Pretty bad ass right?
Grieving is a fucker. I struggle with it every day and let me tell you, losing a parent you were so close to and absolutely love is hard. Before he passed away, I had things all planned in my head. I was going to attend CRAS  and get back into music. I was going to write my next album. But that didn't end up happening. Sometimes, I can't explain it, Life has a way to lead us down another path or to put things on hold for a little bit. After the funeral I couldn't even pick up my guitar and not a single word or note left the back of my throat. Instead it shut down and I pushed forward in any other way that I could.
I wish I could say, oh so and so helped me get through it. But honestly, as many relatives, friends and people as there were around me, I still felt alone in what I was feeling, because they were my feelings alone. And I still feel that way until this day. It was just me.
So I couldn't pick up my guitar but I picked up the mace. There was no connection to my father in that. It was just me and my mace. The mace meant strength, courage and fighting to be the warrior that I knew I was but had lost. It connected me with the part that I felt I was losing, my heart. It made the numbness in my body go away and created a shield around me. I felt like I could breathe again when all I wanted to do was run and run out of breath. I wish I could tell you that I was much stronger than this to begin with but I found my strength afterwards, through all the pain and through all the mace. This mace has become part of who I am now and it has become me. We are one. I know not a lot of you will feel what I am feeling about the mace, you won't experience what I am personally feeling, but I know that it will be a big part of your journey, whatever that journey brings.
My grieving process has been working with the mace and talking to all these amazing people through the Steel Mace Warrior podcast. I feel like god sent them to me with special messages (and they don't even know). I know I sound crazy right about now but that's just how I feel. I don't believe that it's for nothing. I think I am on the verge of something great.
In honor of my father i created a workout named "Daddy's Girl". 100 Reps of 360's with a prayer at the end. Felt amazing. You can watch the video of me swinging a mace around me 100 times here.
BUT this all goes beyond my story, this is about your dad and for whomever else that has lost a hero. This one is for you!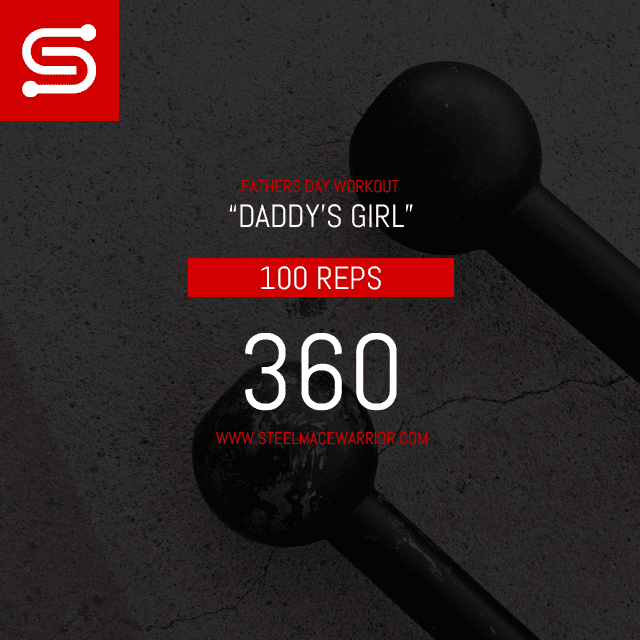 Thank you all for all the support so far and I wish you all a great father's day! Spend time with your father. Tell him you love him. Hug him. Kiss him. Listen to his advice. In the end, those are the things that truly matter.
How did you spend your father's day this 2018? Comment below!
May the universe always flow with you,

Want to get my steel mace podcasts delivered straight to your email?