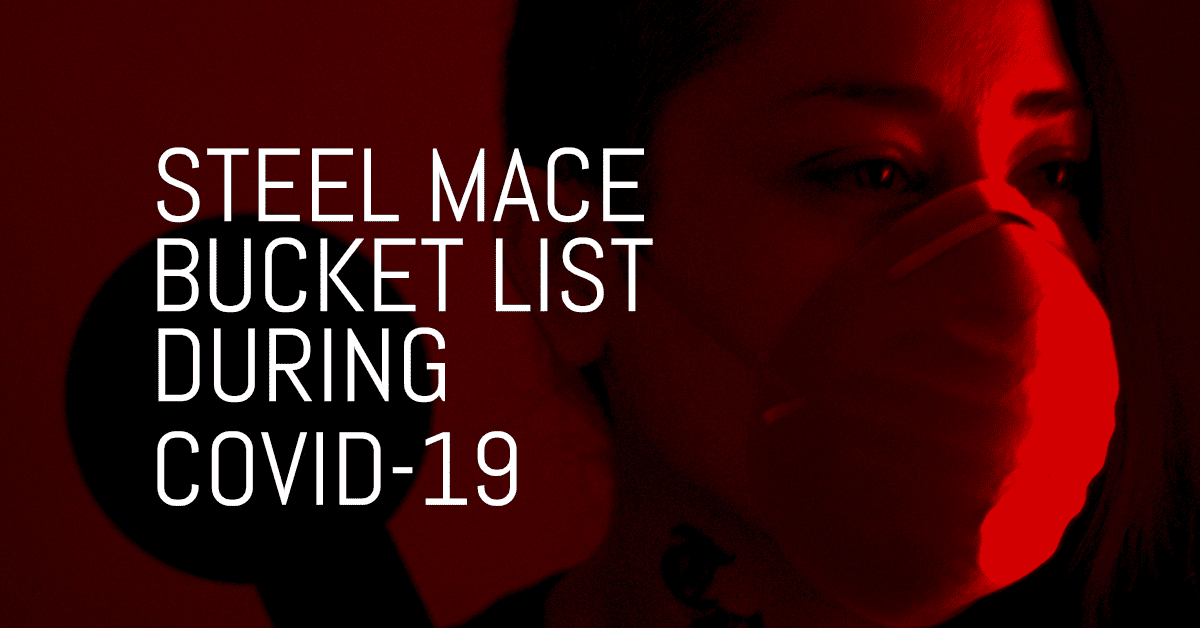 Yes, the world is pretty hectic right now but you shouldn't let that get in the way of living. It's hard, changes are hard, especially when most of us were unprepared. The good news is that I put together a STEEL MACE BUCKET LIST you can go through while all this COVID-19 stuff blows over – because it will! Stay positive, adapt in the meantime. Things will get back to normal, it's just gonna take some time. Yeah, it's not clear right now how long this is all gonna take but we can take this time at our homes and with our family to help and care for others, rebuild, stay on track with our fitness/nutrition and keep kicking ass overall. Don't let it get you down my friend, we will be okay. May all those who we have lost so far be wrapped in the arms of the universe and all those who are alive be protected and safe.
Here is the Steel Mace Bucket List:
1. Check out Mr.Maceman on MOTIFY APP
Mr.Maceman also known as Rik Brown is a notorious Steel Mace educator/trainer from California. He has been all over the world spreading Steel Mace for a very long time and is highly respected. I got to learn and spend time with Rik a few years ago in person and all I can say is that if you want to learn or train with Traditional Mace, you need to check him out. The awesome news is that he is on a mobile app now! Literally in the palm of your hands! Nothing better than that. So while you are at home check it out here:https://motify.com/
2. Learn some Steel Mace Flow – Get your Level 1 – GET SAVAGE
If you've been on Instagram and you see people moving beautifully with strength, power, and heart that is most likely what we call "Steel Mace Flow" in the mace community, a system by Leo Savage. Why not learn how to move gracefully? If you've been stressing out at all (I know I have) , the flow has a way to put you in a state where everything dissolves in and around you. At least that is how I feel when I practice Flow. Learn flow from home with the online level 1 course over at https://steelmaceflow.com
 3. Try the FREE VKNJA Follow Along Workouts 
If you are looking for LIVE follow along workouts that you can do from home go check out Erik Esik Melland and Erin Furry as they get down with the Steel Mace with you! It's free and you are bound to feel like a Viking Ninja once your session is complete. They have it available on Facebook and Instagram (IGTV) right now. You can check out there website for the VKNJA system https://www.vknja.com, VKNJA Instagram and follow Erik Esik Melland on Facebook for the follow along videos.
4. Add a club routine with your Steel Mace – why the heck not!
One of my favorite people to watch and a trainer that inspires me is Zach Yanyk – Warrior Flow Fitness from Canada. He just released his online club course which seems to be amazing. You'd want to learn some shit from Zach, that is for sure. So make this part of your bucket list. I mean it is definitely on mine! You can check that out here: https://www.warrior-flow.mykajabi.com   
5. Great time to catch up with episodes from the only two ALL Steel Mace Podcasts on the planet right now
If you want free steel mace education and want to listen to warrior stories listen to my podcast! I have two seasons running and they are still coming out hot! You can listen to it here – Steel Mace Warrior Podcast. 
I also recommend Steel Mace Nation with Fred Mohr. With both our podcasts you'll have more than enough Steel Mace conversations to listen to. 
Podcasts rule!
6. Get your mobility in with Coach RT3 and The Upgrade Guys
You can't steel mace without a nice mobility routine somewhere in your training days. Coach RT3 and Upgrade Guys are constantly releasing amazing footage for you through Instagram and their mailing list. You can go on Coach RT3's Instagram now for Daily Mobility videos that are sure to make you feel amazing and ready for your Steel Mace session. 
7. Check out all the Steel Mace Warrior Resources
In case you didn't know, I do have a free steel mace basics guide available for those who just received a steel mace in the mail and need to know the "basics" – You can download it here to get started on your mace journey. I released this a few months ago and I know you will benefit from it much. You don't lose anything! Get it, it's free.
I also have a 30 Days of Steel Mace Program – Interactive PDF that includes 30 days of Steel Mace Workouts + Calendar, Video Library, Meal Plan and much more for only $15. I reduced the price (usually $29) because I know many of you need something affordable right now – finances are tight, I get it but don't stop your fitness routine, workout from home with your Steel Mace.
You can sign up for my mailing list to get FREE WEEKLY STEEL MACE WORKOUTS delivered straight into your inbox. Includes follow along videos.
And if you want to get on the waiting list for my month-to-month ONLINE STEEL MACE TRAINING – you can sign up here to get alerted for enrollment in April 2020.
8. Get yourself a Steel Mace – you got time to learn!
If you are reading this and have been wanting to get your hands on a Steel Mace – why not buy one today?! You have the time and space to use a Steel Mace in your home right now. Mail Deliveries are still happening. I recommend SET FOR SET's standard steel mace or ADEX for the traditional style of mace.
All right so there you have it! I added a few in this list and honestly, I could have added way more BUT I went ahead and added the latest happening in the Steel Mace Community during the COVID-19 madness. We are an awesome community doing our best to help you stay healthy from home. Please remember that this is what we do for a living, it is what pays our bills and keeps food on the table for our families. Support your current gym and trainers while this is happening. We all have something going on for you right now!
Enjoy and may the universe always flow with you,