How to protect your warrior heart from the swords of others or even yourself
Posted on 7/31/2019 | Steel Mace Warrior

Article by | Victoria Islas
Certified Steel Mace Coach / Personal Trainer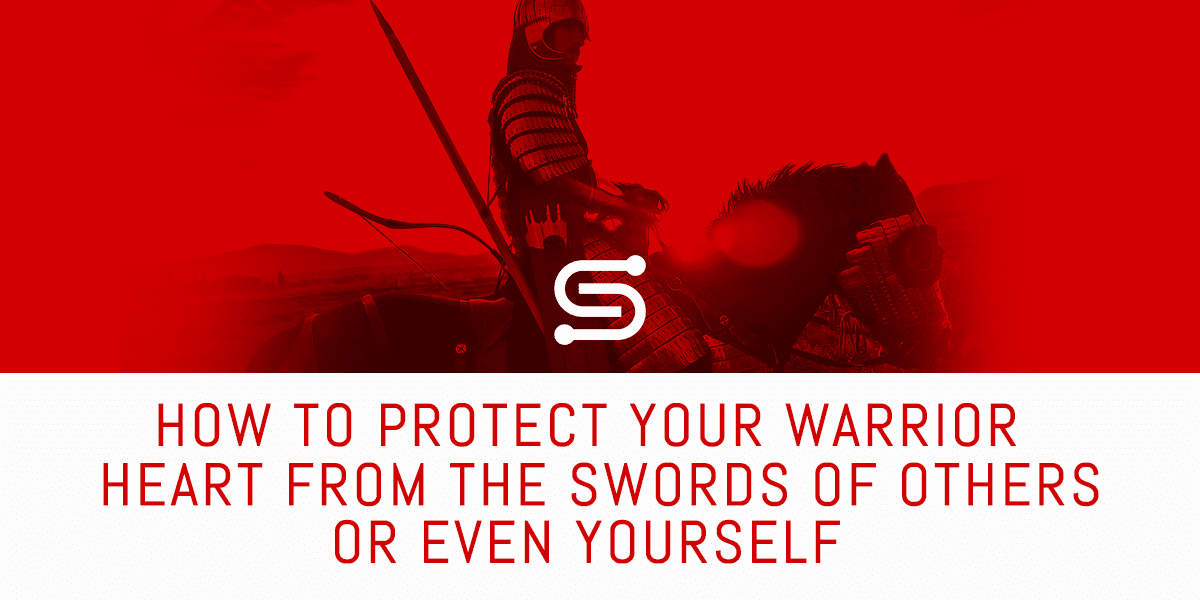 Have you ever felt like your heart was crushed by someone? Or maybe you crushed your own heart? The answer will simply be, yes. We all have felt this kind of pain. Today I want to share with you ways on how to protect your warrior heart from the swords of others or even the swords within ourselves.
Here is a great quote to start this blog with: "Guard your heart above all else for it determines the course of your life." Proverbs 4:23
First, What do I mean by "the swords of others or even yourself"? It's just an analogy for any pain that you bring onto yourself-or- that others may bring onto you (by intention or not being aware). I use this analogy because "swords", back in the day, were purposefully used to wound others during battles between two opposing clans. Everyone carries one of these invisible "swords" with them at all times. Sometimes we use them to defend and protect, other times we use them to wound.
When we go against ourselves – the double-edged sword
Let's start with the double-edged sword. This is the one where it points towards our own heart and the heart of another in the process. What we must understand is that every time we hurt ourselves (point the sword towards our own heart), we hurt others that care and love us deeply in the process (point the same sword towards our loved one's heart).
For us to find the peace we need to discipline our mind like a Samurai Warrior, It's all about daily practice!
The sword that comes against us but not from us
When the sword comes from a different clan (someone else or from a group) intentionally or unintentionally. This is the sword that comes against us but not from us. It is usually unexpected, sudden and comes at us quick! It hurts and you are not sure if you will recover. But I am here to tell you THAT YOU WILL RECOVER AND HEAL.
Here are a few suggestions you can do to protect your warrior's heart:
1) Respect
For yourself
Never be cruel, be kind with yourself and others. Even your enemies. Being unkind and disrespectful will never help you.
For others
Is this individual being unkind and disrespectful to you continuously? You need to truly ask yourself if the person is worth the constant pain. If they are how could you take care of such a thing? Read suggestion #2.
2) Be Honest
For yourself
Always be honest with yourself and others. And take the time to communicate your honest words respectfully. Lying, running, hiding your feelings or manipulating is a no-no.
For others
Is this individual honest with you? Communicate with you? Or are they running or manipulating you? Set yourself up to distinguish the difference, set up a time to talk it over like the loving warriors you can be.
3) Keep your word
For yourself
You made a decision, you gave your word. Now carry it out and complete what you said. Don't leave shit half done or fall back. This will show anyone a lot about your character. Don't let yourself down!
For others
Are they letting you down time after time? Not keeping their word? Leaving you hanging or ignoring you? If they aren't making the time, you are not a priority. Stop wasting your own precious time if so. If you aren't sure, go back to suggestion #2.
4) Reflect
For yourself
Take the time to reflect inwards and don't fall prey to numbing gels (drugs and alcohol) to cover up your faults. Take care of who you truly are, make changes if necessary. You are capable of it at any time. It's a decision away. We are constantly evolving – you choose which path you want to take.
For others
Are they reflecting? Making changes? Or are they always one decision away and choose to be numb instead? If someone continues to hurt you they aren't willing to reflect and change. That means they don't care, so you shouldn't either. The person that cares takes the path of love and compassion.
5) Compassion
For yourself
Are you compassionate towards yourself? Meaning, do you take the time to love and genuinely help your mind, body, and spirit? Emphasize yourself. It's not selfish and your energy will go up tenfold.
For others
How are you being treated? Are they showing the same level of compassion for you as you care for them? Or are you finding yourself being taken advantage of? If they aren't helping or empowering you or showing you compassion then you should be wary.
6) Showing responsibility
For yourself
Taking responsibility for your actions is necessary for your development. When we blame others and never admit we are wrong when we are, that is far from being responsible for our ourselves. Take the time to become aware of what you are not being responsible for in your life.
For others
If another individual is blaming you and turning the tables on you to justify themselves when they are contributors or in fault, this means they are not taking responsibility. Taking responsibility and having full awareness of our actions shouldn't be an awfully hard task to do! Stand up instead.
In summary, life is short and tomorrow is not promised. Protect your heart by showing respect, being honest and communicating, always keep your fucking word & don't let yourself down, go inwards to reflect, always show compassion and take responsibility for all your shortcomings. Your heart leads your path because that is where God resides at all times and it will determine the course of your life.
 What sword battles have you been getting into? COMMENT BELOW!
May the universe always flow with you,

JOIN THE SMW TRIBE NEWSLETTER
[et_bloom_inline optin_id="optin_5"]